Plastic Shrinkage Cracking
David Welch | August 27, 2015
Plastic shrinkage cracks appear in the surface of fresh concrete soon after it is placed and while it is still plastic. These cracks appear mostly on horizontal surfaces. They are usually parallel to each other on the order of 1 to 3 feet apart, relatively shallow, and generally do not intersect the perimeter of the slab. Plastic shrinkage cracking is more likely to occur when high evaporation rates cause the concrete surface to dry out before it has set.
Plastic shrinkage cracks are unsightly but rarely impair the strength of concrete floors and pavements. These cracks, however, can permit the ingress of other aggressive chemicals that impact durability and as weak points for the initiation of later age cracking due to other reasons. The development of these cracks can be minimized if appropriate measures are taken prior to and during placing and finishing concrete. Note: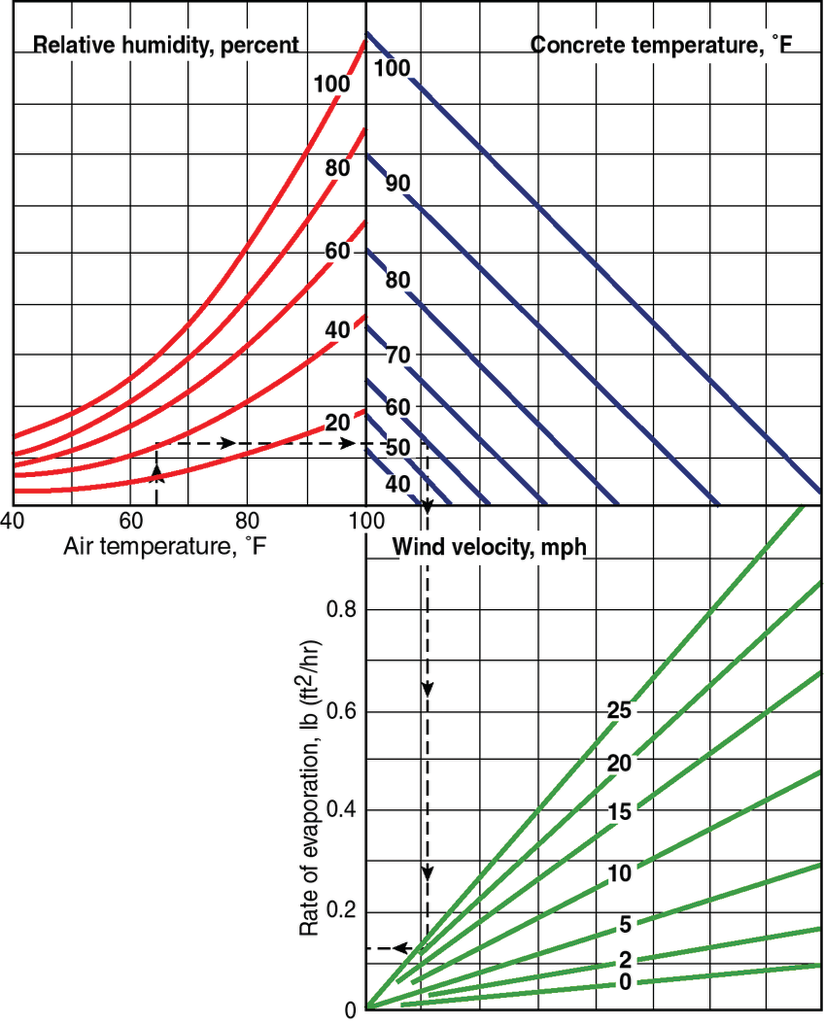 Source: ACI 305R-10, Guide to Hot Weather Concreting
How to Use:
Begin with air temperature and move

up

to the relative humidity
Move

right

to concrete temperature
Move

down

to wind velocity
Move

left

to read approximate rate of evaporation
Whenever the chart predicts water will evaporate at a rate approaching 0.2 pounds/square foot/hour (lbs./sq. ft./hr.), the likelihood of plastic shrinkage cracking exists. Of course, other factors, such as elevated air content in the concrete or the presence of fly ash or microsilica, also affect the occurrence of plastic shrinkage cracks. However, ACI's nomograph is a pretty fair indicator for everyday concrete.
What can you do to minimize plastic shrinkage cracking
Dampen the subgrade and forms when conditions for high evaporation rates exist.

Prevent excessive surface moisture evaporation

by providing fog sprays and erecting windbreaks.

Cover concrete with wet

burlap or polyethylene sheets between finishing operations.

Use cooler concrete in hot weather and avoi

d high concrete temperatures in cold weather.

Cure properly as soon as finishing has been completed.
Need a more accurate estimate on the evaporation rate? Check out the ACI Mobile app
Ready Mix Sales Manager

David Welch

Location

MD: Annapolis Junction